Separation of church and state is a subject that is dear to my heart. With the sad reality that a politician barely has a prayer of a chance to get elected without some claim to religious belief, I feel that it is more important than ever to encourage a secular government.
Contrary to the scare tactics of the proactive religious right, a secular government does not mean the abolishment of everything religious in popular culture. In fact, more than 70% of our population professed belief in the Christian deity, so the idea that we would be able to completely sanitize our society of religion even if we tried is a bit preposterous. However, there is a difference in realizing that we self-identify as predominantly religious as citizens of this country, and allowing the country to become further branded as a "Christian country". This branding began in earnest during the 1950′s; not with our founding fathers as is often incorrectly stated. Much of our existing religious iconography and mottoes were injected into government and patriotic symbolism long after the founding fathers were dead and gone. "In God We Trust"? Became the official motto in 1956. "Under God" in the Pledge? 1954 [http://is.gd/beFWA]. Ten Commandments in courts? Many placed in 1956 by the director of the movie "The Ten Commandments" as a publicity stunt [http://is.gd/beGbp]. National prayer breakfast? 1953 [http://is.gd/beGhp]. National Day of Prayer? 1952 [http://is.gd/beGjO]. Tax exempt status for churches? 1954 as well [http://is.gd/beGmk].
A move to a more secular government and away from the possibility of theocracy is not an attack on religion in and of itself. What myself and many proponents of secular government know to be true is that secular government is neutral government.
In the public sector, such as our schools and other publicly funded organizations, it is important that we remain neutral about religious expression or observation. We could do this by equally observing all religions, or observe no religions in the public sector aside allowing for individual expression within the constraints of current rules, regulations and law. For instance, if someone's religion calls for the wearing of specific clothing, it is allowed unless the regulation of the organization in question requires a uniform.
Some members of our government and their supporters are issuing a call to return to Biblical values and for more religious focus in our public policy. This line of reasoning leads to the issuance of policies that can infringe on those who do not share the same belief system(s).
Here is a video of MN Representative Michele Bachmann leading a prayer concerning our government leaders: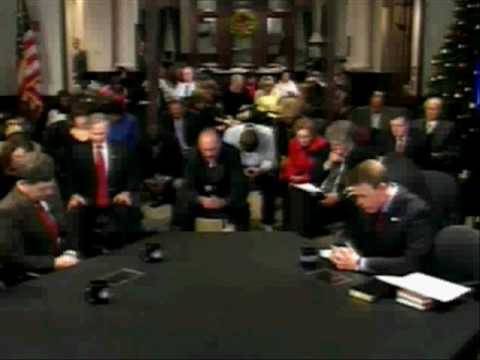 Help join the fight against a theocratic government, and blog against theocracy and those who oppose secular, neutral public policy.